SS-A: Vermont Lake Monsters 5, @ Brooklyn Cyclones 4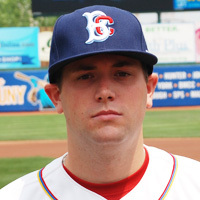 Jack Leathersich (pictured), the Mets 5th round pick, made his professional debut in style. He faced three batters and struck them all out.
Danny Muno (2-4, bb, 2k) returned after missing 13 games with a right hand contusion.
Brandon Brown (3-5, HR (4), 3rbi) hit his team leading 4th homerun of the season, a three-run shot in the bottom of the 3rd inning.
Cyclones hitters struck out 14 times on the night, led by Charlie Thurber 0-4, 4k's.
SS-R: Elizabethton Twins 9, @ Kingsport Mets 7
The Kingsport Mets offense has not been the problem. They lead the APL in hitting (.285) and runs scored (108).
Kingsport's woes have been on the mound as they sport a team ERA of 4.98.
Starter Brett Mitchell struggled: 3 1/3 IP, 7 hits, 7 runs, 6 er, 2 bb, 3k.
The line of the night goes to Julio Concepcion, who one-upped the aforementioned Mr. Thurber. Concepcion was 0-5 with 5 strikeouts.
SS-R: GCL Mets 3, @ GCL Astros 3- Game suspended in the top of the 8th